Automatic Tray Sealing, Automatic Difference
The QX-775-Flex Tray Sealer is an advanced, automatic single-lane tray sealer for medium scale production.
For small producers moving towards growth, The QX-775-Flex provides flexible, accurate, high-speed sealing. It boasts intelligent design that is easy to operate and maintain.
Benefits
Faster
High-speed automatic tray sealing, delivering up to 105 trays per minute
Efficient
Can run both skinpack and standard MAP sealing in just one tool change
Greener
Ideal for sustainable packaging solutions, working with tray materials such as cardboard and mono plastics
Smarter
Unique option to allow you to isolate a faulty tray impression and continue production, maximising uptime
Maximise uptime
A compact machine, the QX-775-Flex is completely adaptable to your needs. It offers fast and safe tool changeovers to maximise uptime.
Integrated Options
Explore more
---
The QX-775-Flex has integrated options for film coding, gas mixing and analysing production performance. This allows you to optimise the tray sealer to suit your product.
Software
Ishida sentinel
---
All customers who buy the QX-775-Flex tray sealer receive the Sentinel™ Reporting Pack, free of charge. Ishida Sentinel™ is our flagship software tool. It interfaces with Ishida machines to deliver live performance data to you and your operators from anywhere in the world.
Gallery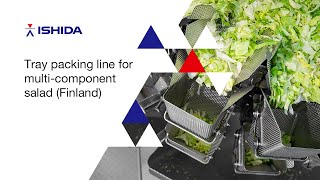 Speak to an Ishida expert
Every business has its own challenges; ours is to help you overcome yours. Working smarter, faster, together, we can help you achieve higher standards and get your products retail ready quicker.