Automatic tray sealing with smart design
The QX900 Flex tray sealer increases the efficiency of your medium-to-high volume production line, processing up to 105 trays per minute.
All machine tools are designed for simple changeovers to minimise downtime. The water-cooled sealing tool can be changed in less than 10 minutes, while intelligent servo drive systems provide smoother tool lifts.
Achieve high-speed sealing within an easy-to-use machine.
Benefits
Faster
High speed automatic tray sealing, delivering up to 105 trays per minute
Flexible
Can run both skinpack and standard MAP with only one tool change required
Greener
Adaptable to sustainable tray materials such as cardboard and mono plastics
Smarter
Unique features to maximise uptime not available with other models on the market
Reduce your downtime
You can isolate a faulty tray impression without pausing production, thanks to our unique tool head redundancy option. This is exclusive to Ishida tray sealers.
Gallery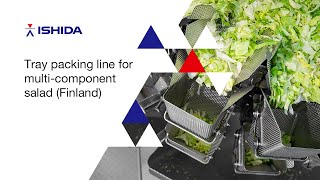 Speak to an Ishida expert
Every business has its own challenges; ours is to help you overcome yours. Working smarter, faster, together, we can help you achieve higher standards and get your products retail ready quicker.