Cut grading down to size
The RobotGrader is a fully automated grading and batching system. It delivers precisely packed trays of fresh poultry, meat or fish pieces straight from processing.
Weighing and smart alignment sensors, along with smart slack belt functions, allow your product to be graded and packed at a faster rate. With RobotGrader, you get minimal product giveaway and weighing inaccuracies.
Make great savings and achieve higher profitability compared to traditional grading equipment.
Benefits
Smarter
Automates difficult product handling whilst maintaining product quality
Accurate
Slack belt technology delivers more accurate weighments, avoiding errors caused by product transfer
Efficient
Minimal giveaway due to advanced batching technology
Flexible
Modular design and programs that you can change mid-production
Quicker than the human eye
The RobotGrader uses advanced robotic arms. This technology cuts labour costs by 75% and is capable of reducing giveaway to almost zero.
Gallery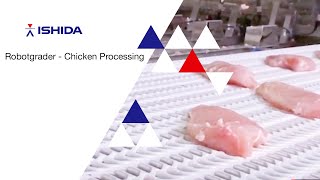 Speak to an Ishida expert
Every business has its own challenges; ours is to help you overcome yours. Working smarter, faster, together, we can help you achieve higher standards and get your products retail ready quicker.