Perfection for Inspection
After consulting with our customers, we created the new modular X-ray ancillary range to meet your application needs.
The ancillary range includes:
Guarding options in line with the IX system design and surface finish, with sloping angles for easy cleaning.
Reject mechanisms offering different speeds and weight capabilities. Available mechanisms include drop belts, up flaps, heavy duty air, pushers, arm and multi lane air rejects.
Single conveyors that take your product from the infeed, through the X-ray machine and to the outfeed.
Removeable bins made of food grade plastic material, available in red for foreign body rejects and blue for missing or broken products.
Benefits
Hygienic
Fully robust and reliable designs that are easy to clean
Efficient
Offering improved product transfer and protection from your factory environment
Advanced
Rigorously tested by experts before going to market, to meet exact specifications
Compliant
In line with industry regulations, ready to supplement your quality inspection regime
Innovative Bin Design
The removable bin design speeds up the removal of rejected products from the machine. The Ishida design consists of food grade plastic bins that can come in a range of sizes, heights and colours, that are easy to remove and put back into position. The bin with rejected product can be taken away from your line with a minimum amount of machine downtime.
Gallery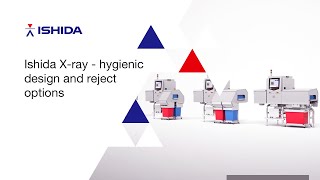 Speak to an Ishida expert
Every business has its own challenges; ours is to help you overcome yours. Working smarter, faster, together, we can help you achieve higher standards and get your products retail ready quicker.