All-in-one solution for packing your products
The ACP-700 casepacker is our one-stop solution for snacks producers. It allows you to complete pack sorting, case alignment, case packing and sealing using one case packing machine.
The smooth mechanics and fluid design of the ACP-700 give you access to faster packing and superior efficiency. It is a compact system that integrates neatly into your production line.
Benefits
Efficient
Full case alignment, bag orientation and packing from one single supplier
Compact
Small footprint machine, that can integrate smoothly with your production line
Smarter
Fully automated changeovers that avoid machine faults, human errors and excessive downtime
Simpler
Intuitive operation with touch screen controls, and easy maintenance
Flexible casepacking for you
The ACP-700 is adaptable to various bag types and pack formats. Choose between 500 pack presets to suit your product and packing needs.
Gallery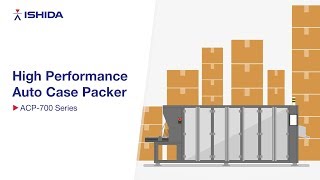 Speak to an Ishida expert
Every business has its own challenges; ours is to help you overcome yours. Working smarter, faster, together, we can help you achieve higher standards and get your products retail ready quicker.