Excellence-line checkweighers
Take your checkweighing a step further with the DACS-G-S Series high speed checkweigher.
High speeds, simple maintenance and superb accuracy give you a quality control system you can rely on.
The DACS-G-S offers you full performance without compromise, featuring specialist technology exclusive to Ishida.
Avoid problematic giveaway and secure the trust of your retailers with a checkweigher designed to deliver life-long, accurate weight determination.
Benefits
Flexible
One machine covers an extensive range of weights, if your applications have varying needs
Tougher
Open design and robust build make the DACS-G a life-long investment that you can rely on
Smarter
Designed to maintain maximal throughput, Force Limiting Disconnect (FLD) reacts to excessive force and protect the weigh cell
Simpler
Easy to read interface available in multiple languages, that requires minimal training to understand
SS Variant
The SS model is engineered for dry environments, with a protection against ingress in accordance to industry-standard IP54 rating. It is designed for wipe-down cleaning, with aluminium conveyor beds delivering strength without providing unnecessary weight loading to the weigh cell.
Tailored to your application
IDCS
Explore more
---
All DACS Series checkweighers are compatible with IDCS (Ishida Data Capture System). IDCS creates a full map of your checkweigher's performance and offers detailed analytics to help you improve overall equipment efficiency (OEE). The IDCS is included free of charge with the DACS-G Model as standard.
WP Variant
Watch now
---
The WP model is engineered for dusty and wet environments for protection against dust and water ingress in accordance to industry-standard IP65 rating. Engineered with hygienic design considered, the WP Variant is made for a variety of environments and is suitable for wet clean down with water spray.
Gallery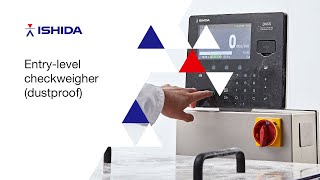 Speak to an Ishida expert
Every business has its own challenges; ours is to help you overcome yours. Working smarter, faster, together, we can help you achieve higher standards and get your products retail ready quicker.