X-ray from Another Angle
he IX Side Beam X-ray inspection system gives you industry-leading sensitivity for detecting foreign bodies in food, in a machine built to handle products with a high aspect ratio.
The system has the generator and line sensor parallel on either side of the product, tilting the usual alignment by 90 degrees.
This allows for the measurement of lightweight products and/or high aspect ratios, such as upright bottles, pouches, or cartons.
Its unique design with a carousel conveyor means no protection curtains are needed. An inline X-ray machine allows for a smooth and reduced footprint integration into your production line.
Benefits
Accurate
Precise detection of low-density foreign bodies, even for bottled products
Compact
Small footprint for easy integration into your production line
Advanced
Unique side beam design and smart bottle pitch control allow for ultimate detection performance
Flexible
Performs multiple quality control tasks, including counts, , fill level checks, damage identification and weight determinations
Star Wheel
The Ishida Side Beam unit can be provided with a range of additional dedicated options.
For certain applications it is possible to get an option of a star wheel spacing device, which is installed at the start of the machine to allow for consistent flow of product within the machine.
Total Cost of Ownership at less than 3% per annum
Ishida has introduced unique low-cost packages for new X-ray machines that incorporate complete coverage for the units over a 5-year period. 
Download
Software
Sentinel
Explore more
---
The IX-GA X-ray detection system is compatible with Ishida Sentinel, providing reports on machine performance and status.
IDCS
Explore more
---
The IX-GA X-ray can integrate with IDCS (Ishida Data Capture System) for capturing individual product data that can assist with improving process control.
Gallery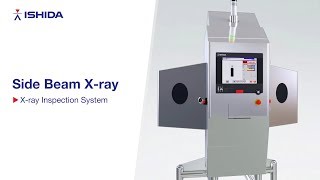 Speak to an Ishida expert
Every business has its own challenges; ours is to help you overcome yours. Working smarter, faster, together, we can help you achieve higher standards and get your products retail ready quicker.