Specialised free-flowing precision weighing
Ishida's specialised Cutgate Weighers achieve free-flowing precision weighing for your granular products, working with products as small as <1mm in diameter.
Cutgate weighers offer you better accuracy and reduce product damage compared to volumetric cup fillers and auger fillers.
This machine is available in a range of different configurations to match your application. We manufacture both circular and linear formats.
Benefits
Accurate
Reduce product giveaway by 60% when compared to volumetric cup fillers and auger fillers, thanks to superior product handling
Simpler
Intuitive Remote-Control Unit allows you to make adjustments with no mechanical changeover required
Gentler
Handle your granular products with care and maintain weighing precision
How we use gravimetric flow
The cutgate weigher was engineered to work with the free-flowing properties of granular products. The cutgate weigher maintains high speeds and transfers accurate weighments to the packaging equipment.
Gallery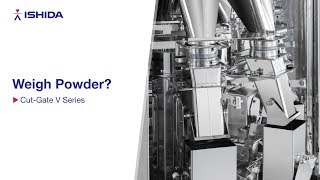 Speak to an Ishida expert
Every business has its own challenges; ours is to help you overcome yours. Working smarter, faster, together, we can help you achieve higher standards and get your products retail ready quicker.